The exhibition 003_READ celebrates 21 years of publishing of the Warehouse Journal at the University of Manitoba's Faculty of Architecture. Founded in 1991 by a group of students that wanted to showcase the strength of the Faculty following a dormancy in published work that had lasted since the 1970s. It set forth with the mandate for being a medium in which to foster and disseminate discourse and critique. Since then each year a volume is put forth by a different set of editors and thus each year Warehouse finds a unique creative direction, editorial style, and scale of production – all the while maintaining an initial mandate seeking to find the relationship between architecture and publishing. Volumes 1-21 reflect the evolutionary changes to the academic structure of the Faculty, and reveal the changing world of publishing through its level of production and aesthetic value.
More information on the Warehouse Journal can be found at www.warehousejournal.org
Powered by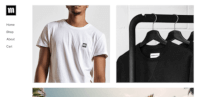 Create your own unique website with customizable templates.